Variations on the Suzi Dress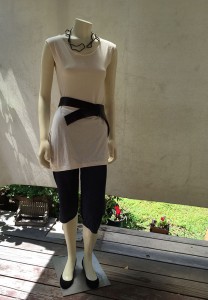 Lace Inserts
Add a visual interest with a lace inserts. Could be a large piece on the back or up the sides or small details.
Keep the structural assist of the t-shirt layer when possible for better wearing, cut sparingly if you remove backing cloth as a curl to the shape can be expected if there is no support under the cut out. A second option is to insert a contrasting color cloth under the lace, or even dye the lace before adding for visual interest.
Bias Tape
Use old silk neck ties to make bias tape. A bright bit of 1.5 – 2" silk wide strip, edges folded in to create a neat narrow band of bias tape to create a dramatic finish of patterns and color on an unfinished edge.
Ruffles
Add a tight ruffle to the neckline with t-shirt strip cut from the sleeves joined into a long 1" trim ribbon. Gather using a needle or with a long basting stitch on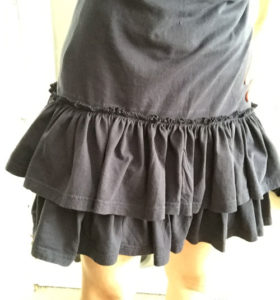 the machine.
A variation might be to use a lighter drape fabric to make a deep 5-7" gathered hem ruffle for a Spanish flamenco dancer inspired polka dot or other spice at the hip line. Ruffles need to be at least twice as long as the area they are to cover measure the opening before starting to attach to ensure proper length.
Sleeve variations
re purpose a blouse with great long or short sleeves into service a Suzi Hiking Dress.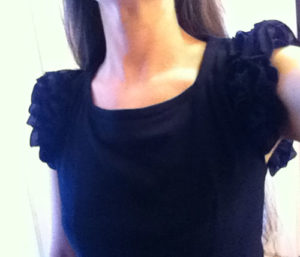 Make floaty angle bell sleeves from large billows of chiffon with cuffs all ready constructed.
Make a stunning diamond shape lace neck jabot or even poncho wings attacking to the back the neckline with simple stitches that can be removed when washing. Traditionally ladies had only one or maybe two dresses and they would sew cuffs and collars int
o place changing out these details to create new looks for the same dress. Why not use a second shirt in the same color to make a shrug that can be worn with the sleeveless Suzi and look like part of the ensemble as well act as a simple cover up on other occasions.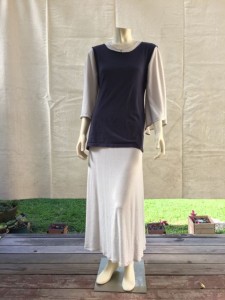 Maxi dress can be ready in a flash with a finished layer below or a large scarf or sarong tucked around the waist and tucked into boy shorts underneath, see the traditional Sari of India for beautiful examples of elegance in dressing without cutting cloth.
Too much plunge in the neckline?
Find vintage treasures to put into service, a handkerchief or small scarf can be stitched or pinned into place to rebalanced a neckline and provide confidence in professional situations.
Create a shaped hemline
Why always go straight, angle the hem into a hip distraction with a high left and low right, or if you have great legs try short in front long in back. This could work especially well with a ruffle or two worked into the hem.
Deconstruct the shirt, with a youthful slash or woven ladder back or fringed a bottom edge for a casual look. For a variation use a graphic t-shirt as contrasting piece under the slits, the branded graphic peeks out from under the slices. Or try using two logo shirts, Physic and Cleaners making a new meaning from the blended images.
Develop new ways of transforming the ever present t-shirt into your own stylish canvas, share this information.