This week I did a display for FabMo in Mountain View. I have an going educational series on what to do with repourpsed fabric. I was happy to sing the praises of the overlooked little metal fitting that I have come to expect in some design center samples as well as lots of sporting gear and tent fittings. I especially love how utility can be improved with a well set grommet. Unfortunately a home level setting kit often has poor results that pull out easily after not being well installed.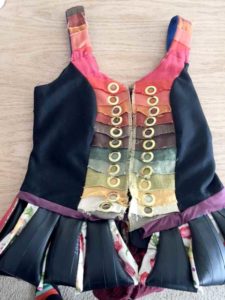 Michael Kors uses this as a hem finish on a knit dress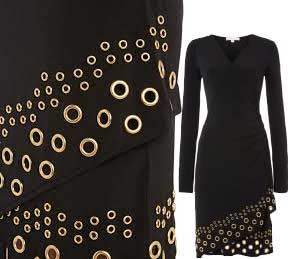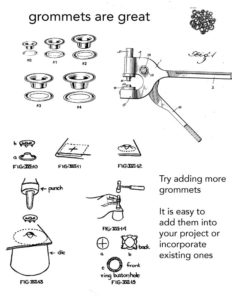 I like therefore to appreciate the grommets I find and sometimes make use of in projects where up cycled fabrics feature grommets. A strong example of this is a vest I made from a linen fabric swatch book that featured two fittings on each fabric layer. Rather than be disappointed I was thrilled and even tacked shop worn places back together so the grommit could keep in line. The lower skirt is made from bike inner tubes and quilt fabric. The front zips closed and the metal does not touch the skin.
Below at left the grommets do touch the skin. Hopefully they are smooth inside. I had to get rid of a neat independent designer's bra top studded with grommets, cool to look at but a pinch to wear. It laced up the back and had a snap adjusting band. It was a clever design but she needed to invest in that better grommet setter that I have my eye on.